I'm on an ongoing quest to find the best pizza in Charlotte, so here my 10 favorite Charlotte pizza spots to grab a slice or a pie to go (plus one place outside of Charlotte that's worth the drive). If you're a pizza lover living in the Queen City, have you found the best pizza in Charlotte NC? What's your favorite Charlotte pizza place?
Looking for other places to eat and drink in Charlotte, NC? Check out Off the Eaten Path's Charlotte Restaurants Guide!
Let's talk about delicious Charlotte pizza. Pizza is one of my favorite foods and I feel like I am on a never ending quest to find the best that the Queen City has to offer. So after eight years of extensive research (LOTS of pizza eating), it was about time to dedicate a whole post about it.
What is the best pizza in Charlotte?
We've got everything from delivery to counter service to NY Style to Neapolitan to late night pizza by the slice in this post. (I'm still searching for deep dish pizza in Charlotte…but rumor has it that I have to go up to Matt's Chicago Dog in Cornelius so I will do that soon and report back).
Here are the top 10 spots for a slice in Charlotte, North Carolina If I missed your favorite pizza spot, let me know! I hope this post will generate some good Charlotte pizza conversation and I'll get a few more places to add to my Charlotte pizza bucket list!
If you're interested in learning more about Charlotte food, make sure you check out my posts about Charlotte's Best Brunch, Charlotte's Best Patios, the Best Wings in Charlotte, Charlotte's Best Breweries, or my Charlotte Food Bucket List. And if you're looking to take a little road trip, I've got some NC foodie features including the best restaurants in Hendersonville, NC, and Off the Eaten Path's Asheville Travel Guide, Outer Banks Travel Guide, Bryson City Travel Guide, Things to Do in Beaufort NC and how to spend a weekend visiting North Carolina wineries.
Right now, Inizio is serving the best pizza in Charlotte, NC in my opinion. It's my favorite. Authentic, Neapolitan-style pizza is my jam (which is actually funny because it's at the other end of the spectrum from deep dish which is my other jam). Pizzas are made with Italian ingredients and cooked for 90 seconds in a wood fired brick oven from Italy, giving you as close to an authentic Naples pizza experience that you can get in the Queen City. My fave is their pistachio pesto pizza, and I really want to try their seasonal pumpkin pizza that's on the menu right now.
Pizza by the slice is my jam; I'm actually a little hungry right now and my stomach is rumbling just thinking of the excitement/anticipation of waiting for your slice to come fresh out of the oven piping hot. In college and law school, grabbing a late night slice on my way home at bar close was a weekly MO, and my 25 year old self was disappointed with Charlotte's late night pizza options when I moved here after graduation. (In fact, my friend Kate and I laugh about a birthday party we hosted for her at our apartment and all I wanted at about 1230 AM was pizza and I couldn't find any).
So while my thirty year old self as never been to Benny Pennello's after bar close (it's way past my bed time now!) I do like that we have a delicious late night Charlotte pizza option, and will happily eat their giant slices in the light of day.
The slices are so big it's a two plate situation.
Plaza Midwood has been affectionately appointed Pizza Midwood after the abundance of pizza options on Central Avenue right through the main stretch of the neighborhood. As a Charlotte pizza aficionado, I have dined at all of them, written about them, and ranked them, and still believe Pure Pizza comes out on top. I love their crust, their use of fresh, local ingredients, and their casual counter service.
Their original location is in 7th Street Public Market in Uptown which makes for a great lunch option for office dwellers or a perfect pizza pre game/concert/event option. In fact, AJ and I celebrated our first major purchase together (Panthers' season tickets) with a large Pure Country (extra garlic, of course).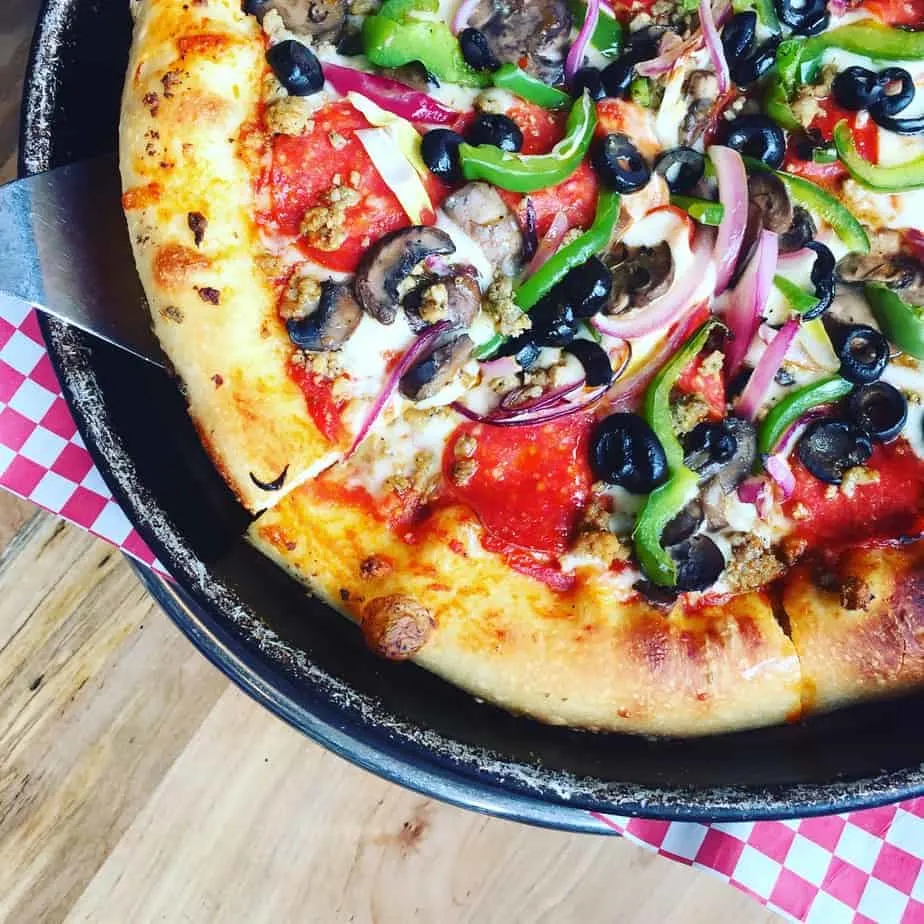 Confession: Stagioni's pizza is pretty good (not the best Charlotte pizza in my opinion, but pretty good). Why does Stagioni make the list then? Because of the way they serve their pizza.
Forget a knife or a pizza wheel. When the pizza is delivered to your table at Stagioni, it comes with a pair of pizza scissors so you can cut the perfect slice. And I'm very into pizza scissors.
Head to Stagioni for a romantic date night, tuck into some good, elevated Italian comfort food, and make sure you order a pizza just so you can cut it with scissors. Pro tip: score a seat at the pizza counter if you can to watch the kitchen in action.
From the outside, Sal's looks like nothing much. Just an unremarkable, sort of short and stout concrete building on Monroe Road. You'd probably drive right past it, if you weren't on the lookout for some damn good pizza by the slice and were intentionally keeping your eyes peeled for their sign.
Sal's has an extensive, New York/New Jersey infused, Italian inspired menu (and the zucchini sticks are crispy and addictive) but skip the full pizza order in my opinion, and beeline straight for the counter were the daily by the slice options are peering back at you through the glass.
Depending on the day, Sal's has a variety of different slice options, from traditional pies like pepperoni, sausage and supreme, to more creative slices like buffalo chicken or chicken bacon ranch. Pick your poison and then they'll heat your slices up in their oven while you wait.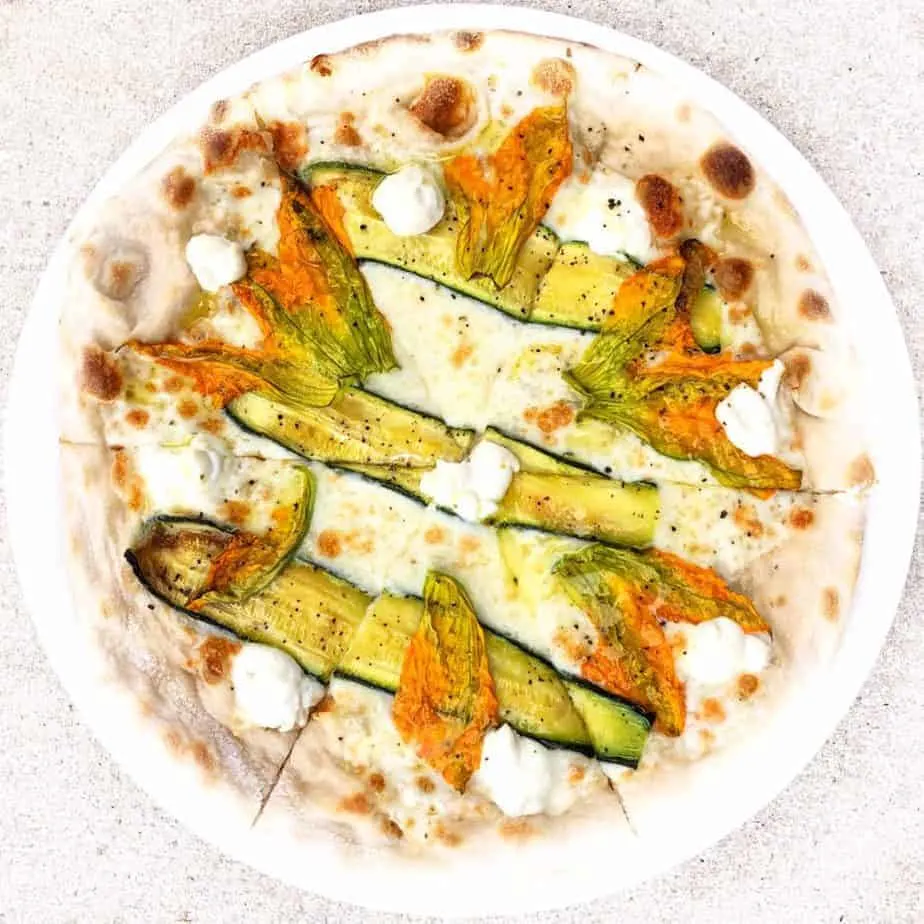 This seasonal pizza with squash blossoms and zucchini from Pizzeria Omaggio is one of my favorite pizzas in Charlotte!
Pizzeria Omaggio is also making a really good Italian style pizza in Charlotte. Not all Italian pizza is equal though; while Inizio's pies are Neapolitan, Pizzeria Omaggio makes Roman style pizza.
What's the difference?
The main distinction is in the crust ingredients; Roman style pizza adds oil to the flour, water, yeast and salt found in the dough, giving the crust more weight and flavor and resulting in a crispier crunch. In Italian, Omaggio means homage, or to pay tribute, and Pizzeria Omaggio is definitely paying tribute not only to the craft of pizza making but to their fresh, seasonal ingredients with their pies.
While you'll find a lot of high quality, traditional pizzas at Pizzeria Omaggio, one of my favorite pizzas on their menu is their rotating seasonal selection, made with fresh ingredients that vary season to season, like butternut squash with sausage and fig preserve with sliced pancetta in the fall, or fresh zucchini with squash blossoms and poached lemons with smoked ham in the spring.
Pizza and beer go hand and hand, so honestly I'm surprised there aren't more pizza options at the multitude of breweries all over the Queen City. (PS: Have you read all about our favorite Charlotte breweries yet?)
While I also like the pizza selection at Brewers at 4000 Yancey (one of the only other breweries in Charlotte serving pizza), my favorite brewery pizza is what comes out of the kitchen, I mean truck, at Passport Dough and Co., which is permanently parked at Unknown Brewing in South End.
For a flat rate of $13, you can order what, for a pizza lover like me, is more of a personal sized pizza (although AJ and I have split one before and have been plenty full). You pick your crust style (original, thin, gluten free or whole wheat) and then choose your "country," which is where things get creative; you can go expected with "Italian" or more out of the box with choices like Mexican, Vietnamese, French, Korean, Lebanese, Thai, Jamaican or U.K.
Since I can put down a Passport pie on my own, if you're with a group, I recommend ordering a variety of different pizzas and then mixing and matching so you can try more flavor combinations.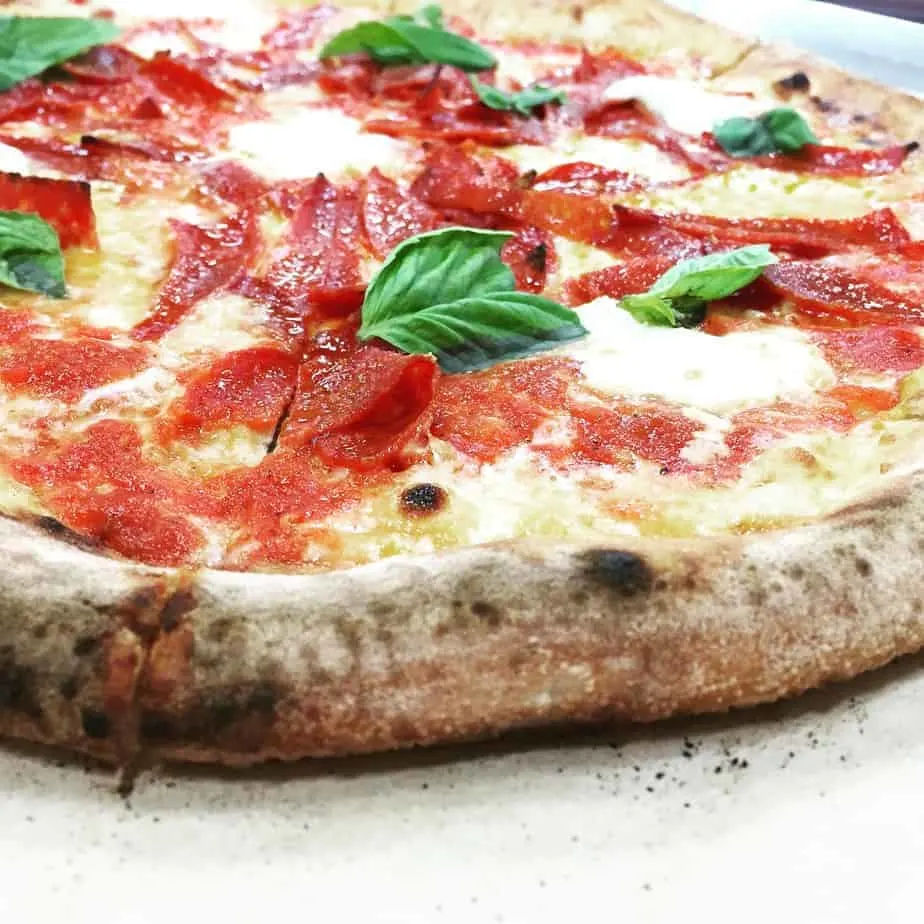 Intermezzo is one of my favorite restaurants in Charlotte, in fact, it was the first restaurant I ever wrote about on this blog (forgive me for my terrible photos…but read all about Intermezzo.)
Intermezzo has been a stalwart of the Plaza Midwood food scene since 2007, and is often overlooked for other choices that are shinier and new. But don't sleep on Intermezzo, the people are nice, the space is cozy and the food is really, really good.
While Brothers Branko and Djordje Avramovic opened Intermezzo to bring their grandmother's Serbian family recipes to Charlotte (and you should definitely order off the Serbian menu), Intermezzo's pizzas are also worth ordering; you can taste the love and passion in every bite of homemade dough. While Intermezzo was a takeout go-to for me when I lived down the street, I recommend enjoying your pizza along with a glass of wine or a cocktail in Intermezzo's warm, welcoming dining room.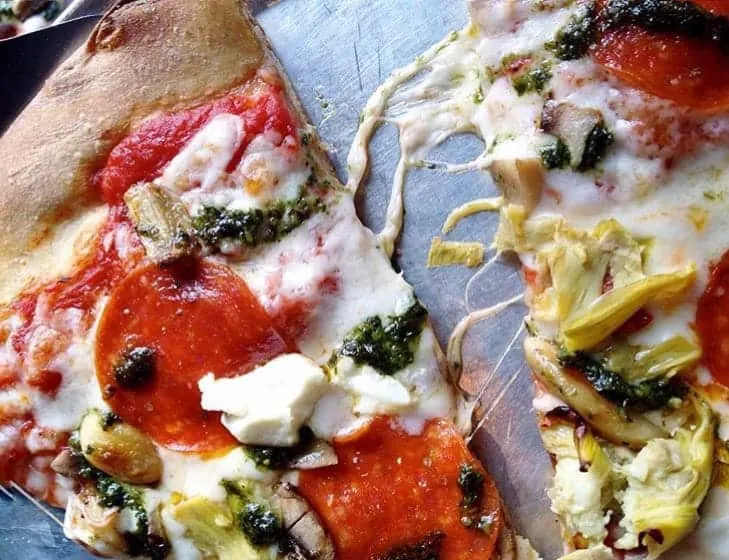 The Pizza Peel usually makes a lot of best Charlotte pizza lists because it's super family friendly. And yes, that's very true…on any given night at the Plaza Midwood location you'll see kids of all ages digging into slices of pizza in between playing lawn games or frolicking and running through the restaurant's spacious patio and yard.
But The Pizza Peel is making my best pizza in Charlotte list because of their secret menu, which is chock full of creative (bordering crazy) flavor combinations. My favorite Peel combination is a secret menu specialty, The Godfather, with an olive oil base, prosciutto, roasted red pepper spinach, cheese and a balsamic spiral. Get some red sauce on the side for crust dipping and wash everything down with a local beer from their impressive, rotating craft beer list and you'll also be in pizza heaven.
It's newer on the Charlotte pizza scene, but I believe Capishe is worthy of a spot on my updated best pizza list.
While I love the fast casual concept and the ease of online ordering (which is putting Capishe near the top of our Friday night take out list), Capishe's fast casual, counter service does not sacrifice anything when it comes to quality or flavor.
There are authentic, wood fire pies coming quickly out of Capishe's pizza oven, and we are big fans of their simple, flavorful pasta dishes too.
Who serves your favorite Charlotte pizza?